The RSD Lite v5.6, also known as Remote Software Download Lite, is a Windows application developed by Motorola. It allows users to flash the firmware and perform other maintenance tasks on Motorola devices.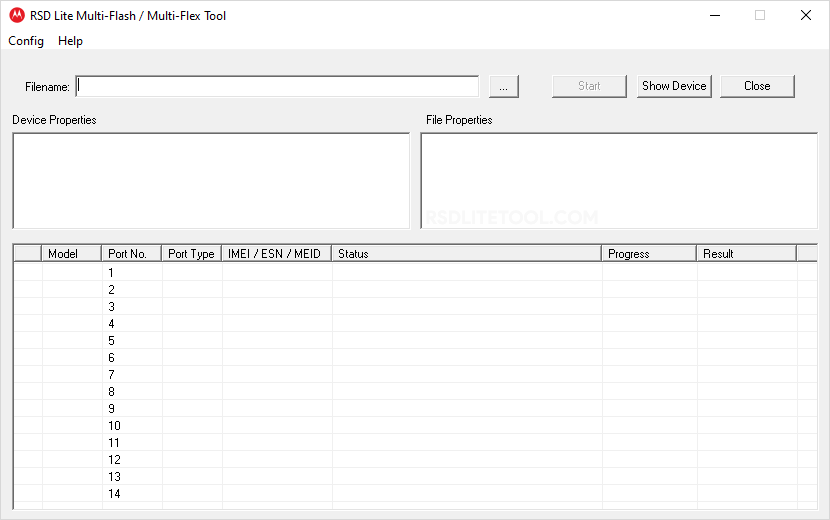 RSD Lite v5.6 for Windows
RSD Lite (Radio Software Download Lite) is a small utility developed by Motorola to help flash and modify firmware on Motorola devices. It is Motorola's official tool for flashing firmware onto its handsets.
Some of the Key features of the RSD Lite Tool include:
Firmware Flashing: The primary function of RSD Lite is to flash official firmware or ROMs onto Motorola devices. RSD Lite can handle these tasks, whether it's for upgrading, downgrading, or restoring.
Unbricking: RSD Lite can help restore and recover Motorola devices that have become "bricked" or non-functional due to software issues, making it invaluable for rescuing malfunctioning devices.
Multi-Device Support: RSD Lite's ability to recognize and manage multiple Motorola devices simultaneously is a notable feature for professionals or repair centres.
File Formats: RSD Lite supports various Motorola-specific file formats for firmware and software components, ensuring broad compatibility with official files.
Download RSD Lite v5.6
| | |
| --- | --- |
| Name | RSD Lite v5.6 |
| Type | Flash Tool for Motorola Devices |
| Developer | Motorola, Inc |
| File Name | RSD_Lite_v5.6.zip |
| File Size | 56.48 MB |
| Version | 5.6 |
| Supports | Microsoft Windows (32-bit and 64-bit) |
Frequently Asked Questions
What is RSD Lite v5.6?
RSD Lite v5.6 is a flash tool developed by Motorola that allows users to flash firmware onto their Motorola devices. Developers and advanced users commonly use it to restore or upgrade a device, especially when the device may malfunction or be bricked.
How do I install the RSD Lite v5.6?
You can install RSD Lite v5.6 by downloading the .exe file and installing the flash tool on your computer. The installation process is quite similar to that of a standard Windows application.
How to use RSD Lite v5.6?
First, launch the RSD Lite Tool. Next, load the firmware into the Flash tool and click the Flash button to initiate the flashing process. Boot the device into Fastboot mode. Then, click on the Start button to commence the flashing process. Alternatively, you can follow the instructions on How to use RSD Lite Tool to install Firmware.
Is RSD Lite v5.6 Free?
Indeed, the RSD Lite v5.6 is free to use, being an official release from the Motorola community and designed specifically for Motorola mobile users.
Is RSD Lite v5.6 Safe?
Indeed, RSD Lite v5.6 is safe to use on computers, laptops, and Motorola mobiles. As the tool is officially released by the Motorola community, it guarantees the highest level of safety and security when used on your computer.
Where Can I find Motorola Firmware?
If you are looking for the original Firmware (Stock ROM) compatible with RSD Lite Tool, then head over to the Motorola Firmware page.